Mobile devices and cloud-based software are becoming increasingly prevalent in our everyday lives. We recognize the value of these technologies as relevant and engaging tools for students to develop digital literacy skills and to amplify quality teaching and learning.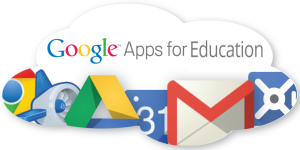 Google Apps for Education  (GAFE)  is a powerful collection of secure online collaboration and productivity tools for students and teachers, as well as unlimited online file storage to be used for educational purposes. These tools are accessible from any network that is connected to the internet and offer tremendous opportunities for students to extend learning beyond their school and into their home and community.
School District 62 supports GAFE for students and teachers. The use of GAFE is voluntary and student and/or parent consent is required. The GAFE platform allows us to:
improve student and teacher workflow for collaboration and sharing of learning;
support and enhance the delivery of educational services to students;
enhance opportunities for staff to participate in professional development activities.
Staff and parents are encouraged to review the additional reference materials for the SD62 GAFE deployment, they are: